You can download the latest version of One Shade APK made available for free for android devices. You can be able to easily change many different aspects of your notifications menu by making use of this app.
With this app, you can be able to edit your themes, layout, notification, colors and many others in your Android device. This One Shade app for Android is one good application that has been created to replace the normal notification drop down menu that appears on your Android mobile device. You should consider this as an upgrade from the standard one.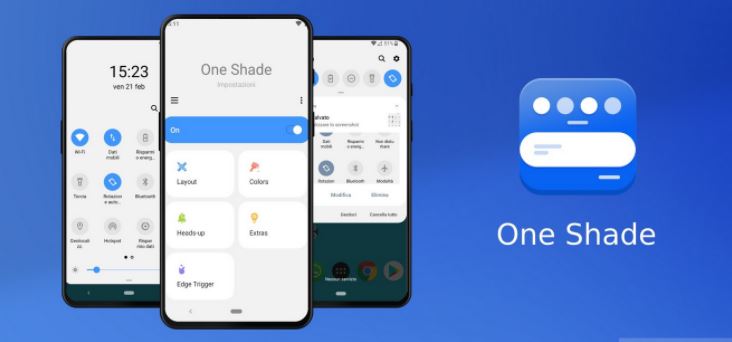 One Shade Features
We are going to take a look at the few additional features that makes your experience when using this app worth it when you download it. These features includes:
Advanced Notifications: by making use of the advanced notification options, you can easily be able to decide what is going to happen to your alerts on the fly.
Music: there are a lot of music options for you to select from. Another thing about this feature is that you can be able to choose which part of the track your notification will start alerting.
Auto Bundle: with this feature, you can be able to gather all the annoying applications together to only one notification tab.
Custom Backgrounds: You are allowed to select the images you wish to use as the background of your notifications.
Color Customization: with this, you have the ability to change all of your notification's layout for your phone. You have a lot of color options to choose from to get the exact thing you want.
Quick Reply: this let's you reply immediately to your notifications on the fly.
Quick Settings: you are being provided with a lot of easy and fast settings to add onto the performance of your apps.
You can easily select different colors that you use for both the foreground and background of your Quick Settings.
It is also possible for you to change the color of your brightness slider to any color of your choice.
This app comes with a lot of icons with your device information.
To get a profile picture, you can choose any image of your choice.
You also have the ability to change the grid layout of your Quick settings in this app. But you can only use this feature in the pro version of this app.
Notification Themes: this app comes with a lot of different theme options for your notification cards. You can also use this to customize your notifications to a higher level.
Light: This comes generally, there is nothing special about it.
Colored: with this feature, you are allowed to use the notification color in the background.
Dark: this serves as dark mode as all of your notifications will change to an all-black background.
User Interface
The user interface of this app is very easy to understand. This app will easily direct you through all the processes when you want to change your notifications.
Download One Shade APK for Free – Latest version
You should go and download and install this app without hesitation in order to be able to edit all of your settings, notifications and themes.
ALSO READ>>>>Ice Cream Inc Mod APK 1.0.31