Pairing your Apple AirPods with your Windows PC isn't rocket science really, apart from setting up your AirPods for pairing with your Windows PC, pretty much every other step to set up is similar to pairing your PC with other devices, Bluetooth devices actually, because you would need the Bluetooth on your PC to be able to connect or pair with your Apple AirPods. So, the subsequent steps wouldn't be new knowledge to you, except you don't have any prior experience using Bluetooth, which is very unlikely. So, here's how to pair your Windows PC whether you're using a Windows 7, 8, or 10. You can find suitable steps below.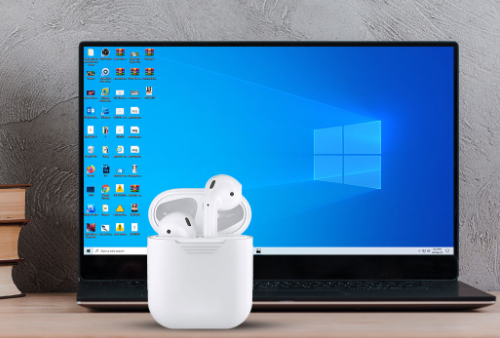 STEP 1 – SET UP YOUR AIRPODS FOR PAIRING
To set your AirPods for pairing, you would have to first place them in the charging pack, turn over the pack, and long press (Press and Hold) the circular set up button you find there. To confirm that it is ready to pair, check for the lid on the charging pack and open it, then confirm that the LED light in the charging case is flashing white light. If it isn't, try to disconnect the AirPods from the charging pack and repeat the process.
SEE ALSO >>> How To Connect Apple AirPods To A Chromebook
STEP 2 – CONNECT YOUR PC TO YOUR AIRPODS
For Windows 7 – Navigate to "Control Panel" and click on "Hardware and Sound", Next, select "Devices and Printers", then click on "Add Device". Select the Airpods among the list of available Bluetooth devices.
For Windows 8 and 10 – Go to your start menu and type in "Settings" into the search box, and click on it. Next, click on "Devices" in the settings tab. Under "Bluetooth and Other Devices", ensure that your Bluetooth is turned on and click on the "addition" icon close to "Add Bluetooth and other devices". Next, select Bluetooth. Under "Add a device" you would see a list of available devices, among which is the Airpods, click on it to pair and then click on done at the bottom of the page.
What to Do If Your AirPod Isn't Playing Audio After Pairing
If you can't find the Airpods in the list of available Bluetooth devices, it means the Airpods may have exited pairing mode due to delay. Try long pressing the circular set up button behind the charging pack, so it starts flashing white again. Then you would be able to find it on your PC.
If the pairing process is complete, the LED light on the Airpods charging pack would display green, if otherwise, try disconnecting and setting up your AirPods for pairing again. Then go to the settings on your PC and go to "Devices", then select "Remove devices". After this, you can try connecting your PC to the Airpods again, but this time, you can simply go to your paired devices and select the Airpods.
Lastly, make sure your AirPods aren't connected to any other device.
RECOMMENDED >>> How To Delete Cash App Account
Was this article helpful?