Facebook Profile Name Change – These days there is any number of good reasons to change your Facebook account. It could be a change of surname due to marriage or maybe you feel you've outgrown your childhood name. Or maybe you just need some change to make things look classy.

People have their individual reasons to replace their names with new ones. Sometimes, apart from those reasons I listed above, people get frightened and tend to change their names. For instance, a lady who just broke up with her spouse can go Facebook and change her name just to isolate herself and be left alone.

But with the kind of cybercrimes going on right now, where people's accounts get hacked and converted to something else. It is advisable to change your name after recovering your accounts if such a thing ever happens. I show you how to change your name with ease.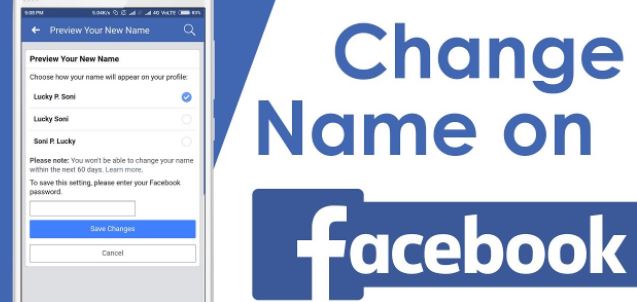 How To Do The Facebook Profile Name Change
Here are some simple steps to guide you through the change of name you desire:
Log into your Facebook account.
Click on the dark downward-facing triangle at the top right of the page.
Scroll down to where you have "Settings."
You should now be on the General Account Page.
Next to your name, click "Edit."
Input the new name you wish to use in the boxes at the top of the page.
Next, click on the review change.
You'll be required to type in your password and check the name correctly.

Unlike other social, Facebook wants you to make use of a legit name, but they don't want pseudonyms or nonsense names.

Not so much with Facebook: they only allow for one name change in a 60-day period. And if you change your name too often, that can extend to 120 days.
ALSO READ>>>>Facebook Dating For Adult Single | Single Facebook Dating