Monitoring apps have been around now for the last few years. However, the old spying apps did not have many advanced features because of the limitations of the smartphone technology. But with the growth of technology and the advent of smartphones, monitoring apps and their functionalities have improved. Spying apps have become more popular among business employers and parents to keep track of the required devices. There are so many apps with spying solutions. However, in this article, you will learn the downloading process of Xnspy APK—a prominent Android cell phone monitoring app.
Xnspy Description
XNSPY offers a wide range of features that assists your monitoring needs. Most of the spying apps are designed for employers and parents. Employers use these apps to monitor their employees' activities and ensure that they spend their time productively. It also helps owners to protect their company's confidential information. Similarly, parents use these apps to track their children's' online activities and ensure that they stay safe. Its different functions allow parents to limit their kids' screen time, record their surroundings, and much more. Let us take a look at most of these features that XNSPY offers.
Call logs
XNSPY allows you to track all of the incoming, outgoing and missed calls through this feature. It assists you to record any conversation and listen to it. This feature also provides a detailed view of the call logs, like time, date, and duration.
All texts and instant messages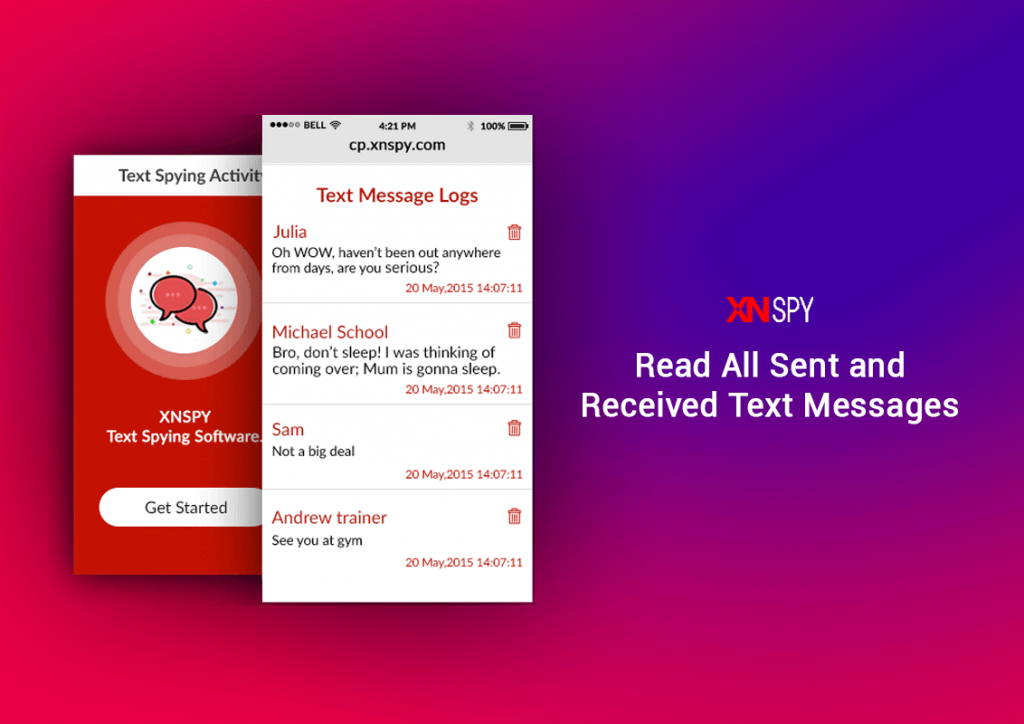 You can view all the texts and IMs via XNSPY. This feature helps you read all the conversations on different instant messaging apps such as WhatsApp, Viber, Facebook Messenger, Skype, Tinder, LINE, Kik, and many others.
GPS location tracking
You can track the real-time location of the device through this feature. XNSPY allows you to keep track of the location along with the location history. You can even use the geofencing feature to mark a particular area and get instant alerts if the device goes near that location.
Multimedia file monitoring
XNSPY helps you track all the pictures, videos, and audio files saved on the Android phone. You can view and download any file on your phone whenever you want.
Internet activity tracking
XNSPY allows you to track all the internet activities using XNSPY. You can monitor emails, web browsing history, and bookmarked pages through XNSPY.
Internet activity-tracking feature can be a helpful feature for both parents and employers.
Phone remote control
Xnspy's Remote commands are unique and highly effective. You can take screenshots, turn the device on/off, record the surroundings and even manage the apps.
Instant alerts feature
This feature is the most powerful feature that can help parents to ensure their kids' safety. XNSPY allows you to enter words, contacts, and locations in the watch list. XNSPY then scans all the data and send alerts if any activity involving the enter data happens.
How to download XNSPY APK file for Android devices
The downloading and installation process of XNSPY varies according to the devices. Here is a step-to-step guide on how you can download and install XNSPY on any Android device.
STEP 1: You can download the XNSPY APK file from the official website of XNSPY. You only have to visit the webpage and choose a suitable subscription for yourself.
STEP 2: XNSPY will send you an email at the provided email address. Check and make sure you received the email.
STEP 3: In this mail, you will receive your control panel username and password, the installation guide, and a URL to download the XNSPY APK file for your Android device.
STEP 4: You will open the provided URL on the device you want to monitor. You will need physical access to the phone to download the XNSPY APK file and proceed with the installation. This installation process takes a few minutes. However, you will not need any physical access to the device anymore once you have installed the file. XNSPY runs on stealth mode, and you can control the device remotely.
STEP 5: Once you have installed the file, you will have to wait for at least 24 hours so that the software can collect the data and transfer it to the web control panel.
STEP 6: You will now log in to your web account using the provided username and password.
STEP 7: After logging in, you will have to choose the relevant android phone from the "My devices."
STEP 8: Once you have selected your device, you will see the options that XNSPY offers. You can use any function through the given menu. You can access the control panel from anywhere and anytime. You only need to have a secure internet connection.
Pros & Cons
XNSPY does offer many advanced features that make it a helpful and reliable app. However, there are few disadvantages as well. Let us take a look at the most prominent pros and cons of XNSPY.
Pros:
It has 24/7 customer support.
It offers the most advanced features.
Cons:
Some of the offered features may require rooting.