Facebook seems to complete the definition of a social network with its diverse features all aimed at connecting people. The Facebook Business Page is a great tool for business marketing and branding, as it offers several avenues for you to get your content to the public in a way that is inviting. These are the few steps in setting up your Facebook Business Page.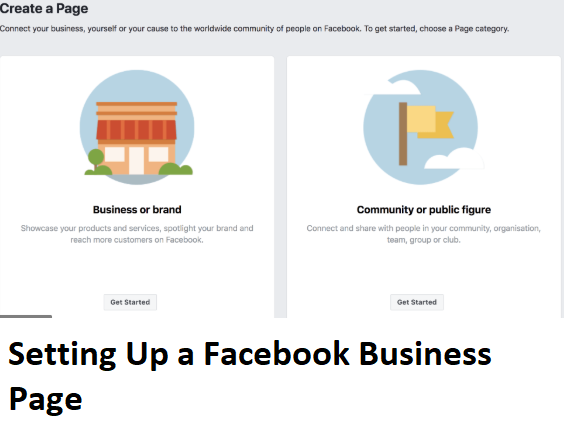 Your Personal Account
If you don't have an existing personal account on Facebook, then you'll have to sign up for one, but this doesn't mean that your personal account is the same as your business account, absolutely not, it's just a gateway to creating your business page. If you already have a personal account and you're worried that your friends or fans might trace the page to your personal profile, well it's not possible for your fans to access your personal profile through your business page.
Your Menu
While on your "Home Page" you'll see the menu icon at the top right of the screen, after clicking on it you'll see "Pages" in the list. When you click on the "Pages" you'll see another icon amongst other options "Create". By Clicking on this icon you'll be led into another space to "Get Started"
Get Started
When you click on the "Get Started" icon, it means that you agree to the terms and policies that guide the Facebook Business Page. Clicking on the get started will lead you to a field to enter your "Page Name", After entering the page name, the next stage is to choose a Category, and then enter the options that are best suited for your business.
Unlike setting up a website for your business, Facebook Business Page is quite simpler and very effective, of course, it's very important to have your business website but there are some features that you can only access through the Facebook Business Page, to compliment your business page, it's important to set up your custom page for your personalized newsletters, signs ups, images videos as well as items for your business branding. One of the great advantages of using the Facebook business page is that it doesn't necessarily require costly maintenance. Having a Facebook Business Page with a custom page helps you to
Engage your fans in conversations
Give your business a wider reach considering the approximately 1 billion active users on the network
Promote your business at low cost through the available advertising features
Get quick reviews from the users of your products or services
A lot of brands have used the Facebook business page to successfully reach out to their consumers making them a step ahead of their competitors, it is indeed a great tool to help businesses achieve a wider reach.
READ: Facebook Avatar Setup – Facebook Avatar Maker | Facebook Avatar 2020