Every restaurant requires proper management for it to actually thrive since there are healthy competitions everywhere seeing that the restaurant business isn't a rare one, the need for someone who is proactive, consistent, effective in staff management interested in improving customer service and experience, someone with great time management skills and knows the importance of advertising. These are the qualities of a restaurant manager who knows their beans.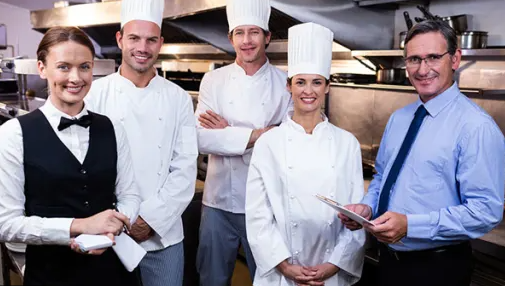 Restaurant Managers are agreeably one of the decent earners in the employment chain, with a capable restaurant manager, any restaurant can make a great reputation and increase it's worth. With the availability of online learning resources, there are now great opportunities to get a certificate on restaurant management by attending classes online.
In the last 2 decades, learning has become easily accessible internationally, using the internet as it brings people together. With this, a lot of renowned institutions now provide online courses that are accessible to everyone across the globe via the internet. Here are some great Online Schools where you can be trained in Restaurant management.
Universal Class
Universalclass.com is a reputable online school that trains students into becoming employable restaurant managers, they have a great schedule of 11 lessons with 17 exams and assignments, and before you realize, you would have the solid knowledge you require in this field. Universal Class has two payment plans, with $75 you'll graduate with a CEU Certificate, while at $50 there will be no certificate included. They also offer a Platinum program which actually helps you save cost. You can register with them at www.universalclass.com .
Ecornell
Ecornell is yet another great Online School focused mainly on training its students on Optimizing Restaurant Space and Pricing, Restaurant Revenue Management, Managing Meal Duration and Reservations, Menu Design and Engineering, and Building Demand during Slow Periods. They offer a great course outline and course flexibility. You can register with them at www.ecornell.com .
Udemy
Udemy is one of the most popular online schools as they offer a very wide range of online courses, enabling one to easily find their intended field of study. One great feature about learning online on Udemy is that you get to learn at your own pace. You can register with them at www.udemy.com
Reed.co.uk
Reed.co.uk is a UK based online school that also offers courses on hospitality management and restaurant management as well as related courses. They stand out with their in-person classroom feature, and you can also access your study materials online.
In Summary, Restaurant Management is very important in the food and beverage industry, the understanding of the basic concepts of restaurant management is the focus of these online classes. While you are going about your current job or taking care of your baby at home, these online restaurant management courses are here to prepare you for the next step of your career in Restaurant Management. And if you're searching for associate programs online, Stratford University and Sullivan University offer a good range of associate courses.
PEOPLE ARE VERY INTERESTED IN – Online Delivery Shopping – Top Online Sites To Shop Internationally