Doing surveys online is the best tool for a basic collection of data. Working personnel and Students are always in need of conducting online surveys for market research, reporting, or also dissertation analysis. Google forms are one of the tools that are most common for creating online surveys. It gives you the opportunity to not only develop an understanding survey, but it also lets you add more features and benefits. Therefore, it is necessary for every student to have knowledge on how to develop online surveys used for collecting data, either for their group project work or for the dissertation. This article is going to give you guidelines to assist you in having more understanding of how to create online surveys using Google forms.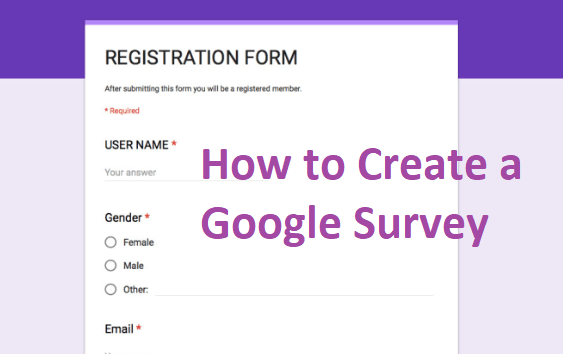 How To Create Google Survey With Google Forms
Whenever it comes to data collection, Google Forms can offer all the help you need.
The first thing you need to do is to create your Google account considering the fact that it is Google's survey and it requires Google forms.
Then you will have to download your Google Forms app or you can also go to the website.
In order to create your survey, you will need to get a title for the survey. The title should be categorical with the topic of your survey.
An option will be displayed for you to choose the description of the form.
After that, you can then go ahead to develop different questions for your survey, and giving a lot of answers to each of the questions.
The options for the questions and answer can also be converted in order to develop "text answers" that does not give out any backup. You can also have checkboxes where multiple answers can be provided for users to select from. Due to users not being able to maintain concentration for a long time, a survey is not supposed to have so many questions.
A toolbar located at the right-hand side can be used to include other fields. Let's say for example you can be able to change the scheme color of your questions or even see the preview of your survey.
Google Forms will also let you share the form with a variety of users by just hitting the button. To add to that, you can also be able to use the add on feature. There is another tab on the dashboard called the response tab, it lets you view responses presently received on your survey form on time.
PEOPLE ARE ALSO INTERESTED IN: Online Flower Delivery – Online Flower delivery Near Me
It won't be ambiguous to say that almost everyone loves flowers, on second thought, pardon me to say that everyone actually loves at least 1 species of flowers. If you're reading this and you disagree …… Read more
Was this article helpful?