Facebook Dark Mode App – Dark Mode or Night Mode as it is also called is one of the most amazing features ever introduced to the Facebook platform. Most social networking app in our world today are adopting the use of the dark mode of their platforms. If by chance you are still confused about what dark mode is, and how it works on Facebook, then you need to go through this article.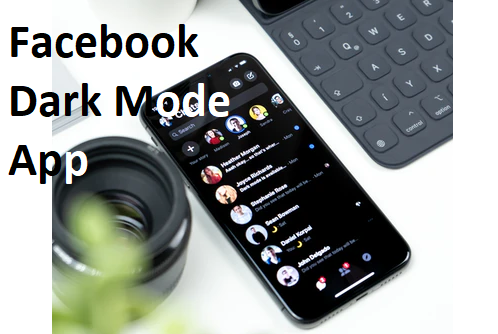 What is Facebook Dark Mode
By now, you are already used to how the Facebook interface looks. Have you ever thought about an alteration in the interface? Meaning that you have the same Facebook platform and all its features but a different theme.
Facebook Dark Mode is a feature on the Facebook platform which changes the interface of the service, giving it a dark or night look. The thing about this feature is that it is very attractive and beautiful to the extent your friends may be wondering what new social media platform you've been introduced to. Beyond just the look, the reason for this feature is to reduce the sensitivity of light ray which goes into the eyes of users when making use of the platform. Another interesting thing this feature does is that it helps your battery life last even longer.
Activating Facebook Dark Mode on the Web Version
To activate dark mode when making use of the Facebook web version, you are required to install the browser extension which is identified as "Night Eye". This browser extension helps users enable dark mode for the Facebook web version.
Activating Facebook Dark Mode on the Facebook App
To activate dark mode for those using the Facebook Mobile App, simply follow the steps below:
Open your Facebook app on your device
Click the menu icon have 3 horizontal lines
Click "Settings"
Click "General" then, go to themes
From the pop-up having a list of themes, click "AMOLED"
Activating Dark Mode on Facebook Messenger
For users to activate dark mode on the Facebook Messenger App, there are required to follow these steps below:
Open your Messenger App
At the top, click on your profile picture
Toggle the button beside the dark mode option to activate dark mode
PEOPLE LOVE TO READ: Zoom App For Windows – How to Install Zoom App for Windows